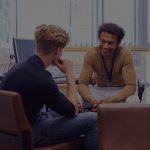 ROFMH can offer a placement for individuals working towards a counselling qualification.
We have a number of locations across Essex, Southend and Thurrock for you to meet with our clients on a one to one basis and provide up to 12 weeks of one to one counselling.
We are also able to provide clients for students looking to conduct counselling remotely over the phone or via Zoom.
For more information please contact Karen on 07308 069 609 or email at kclarke@reachoutfmh.co.uk